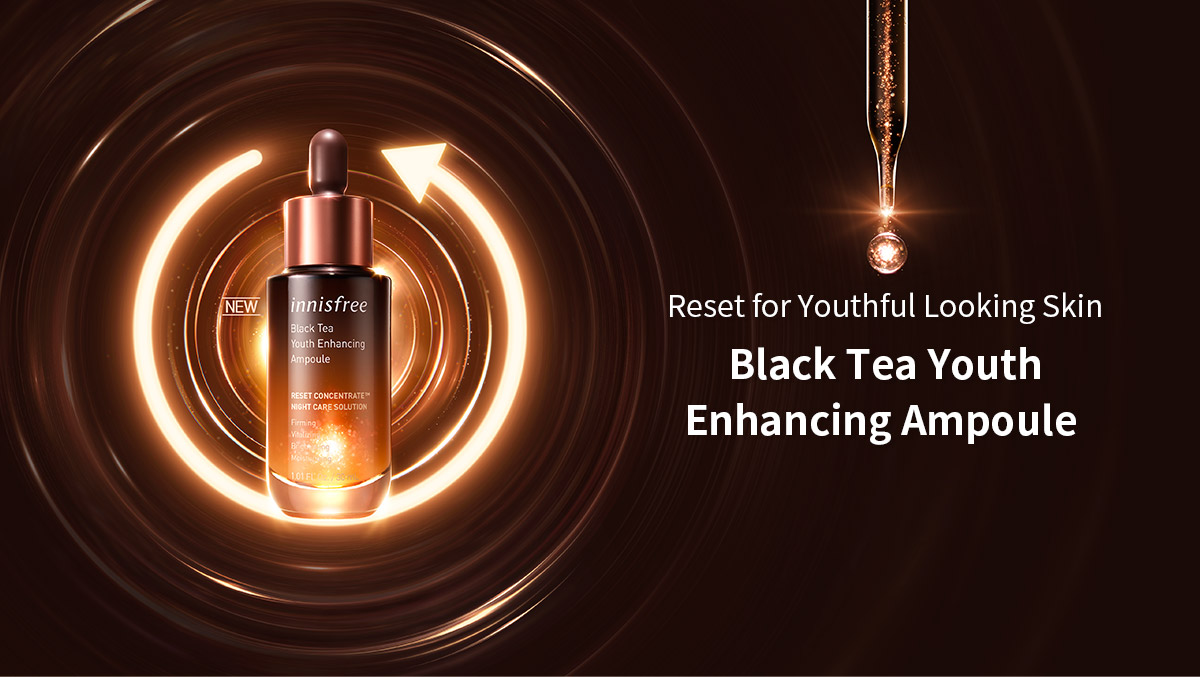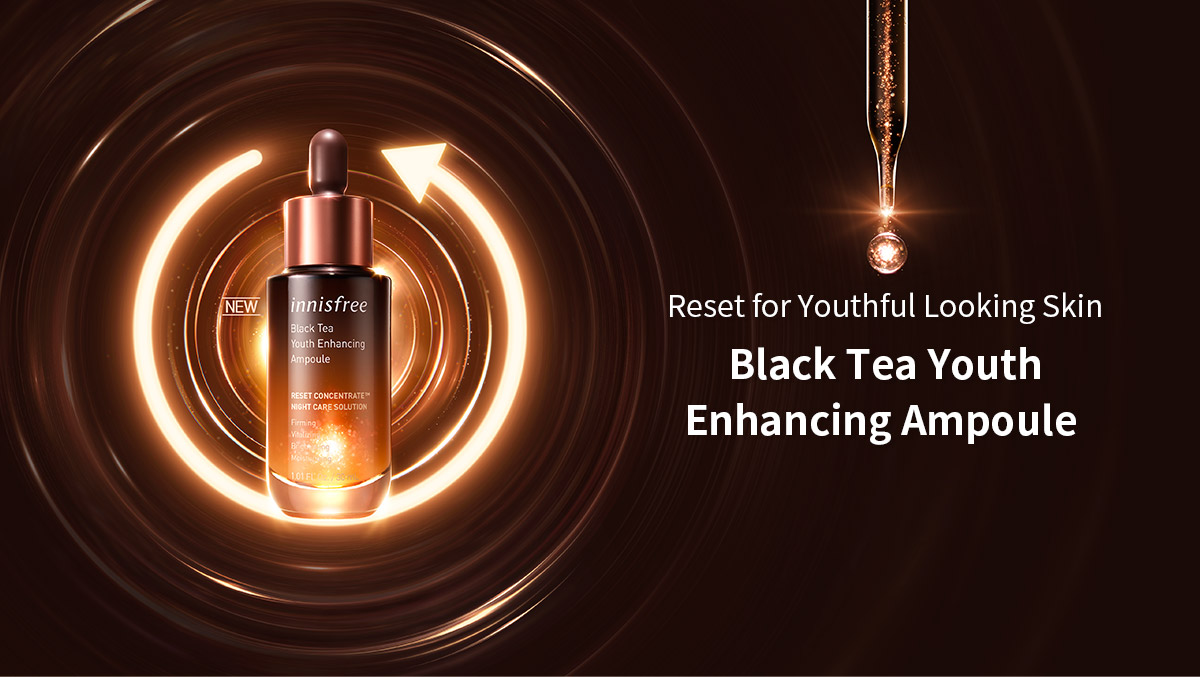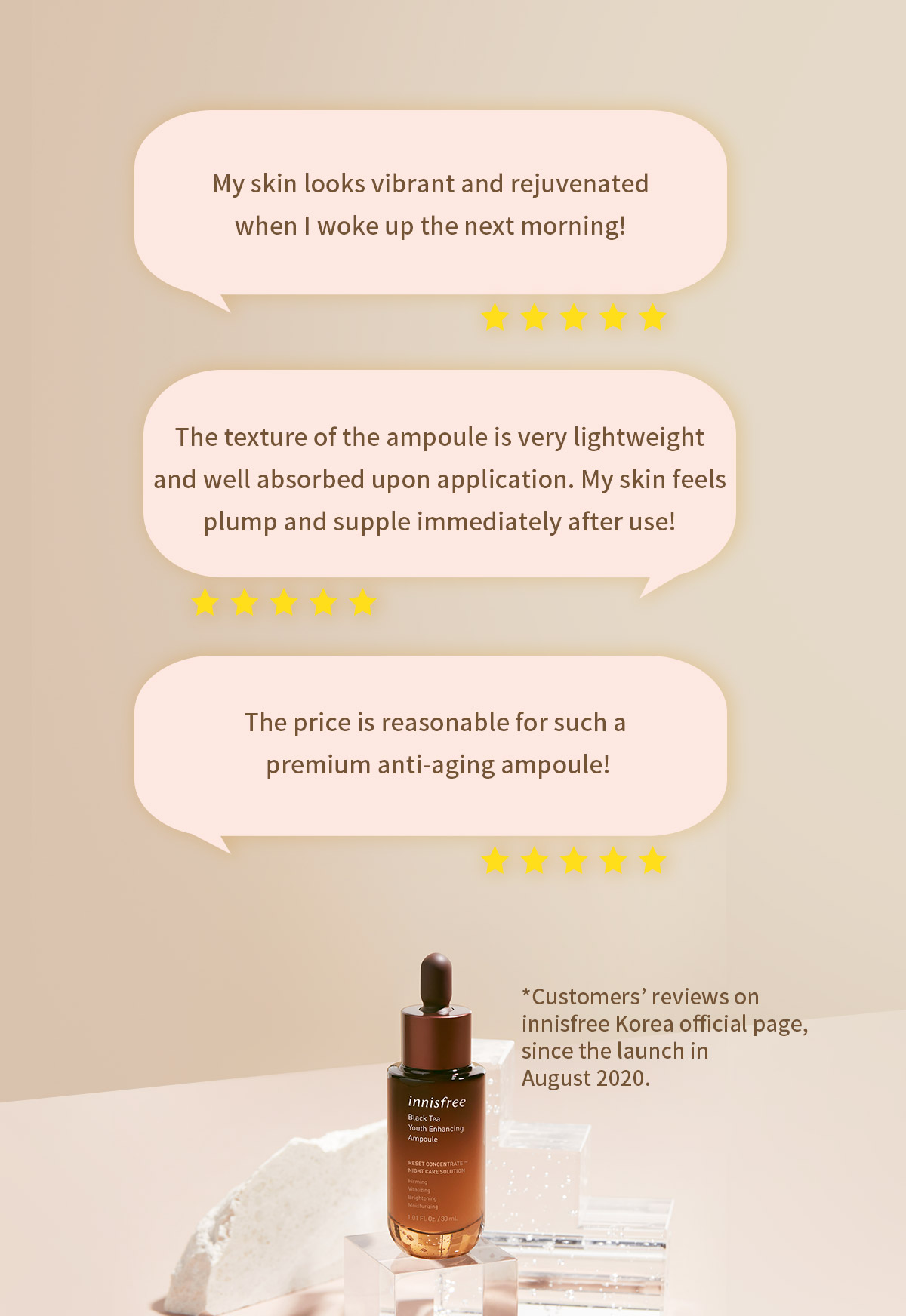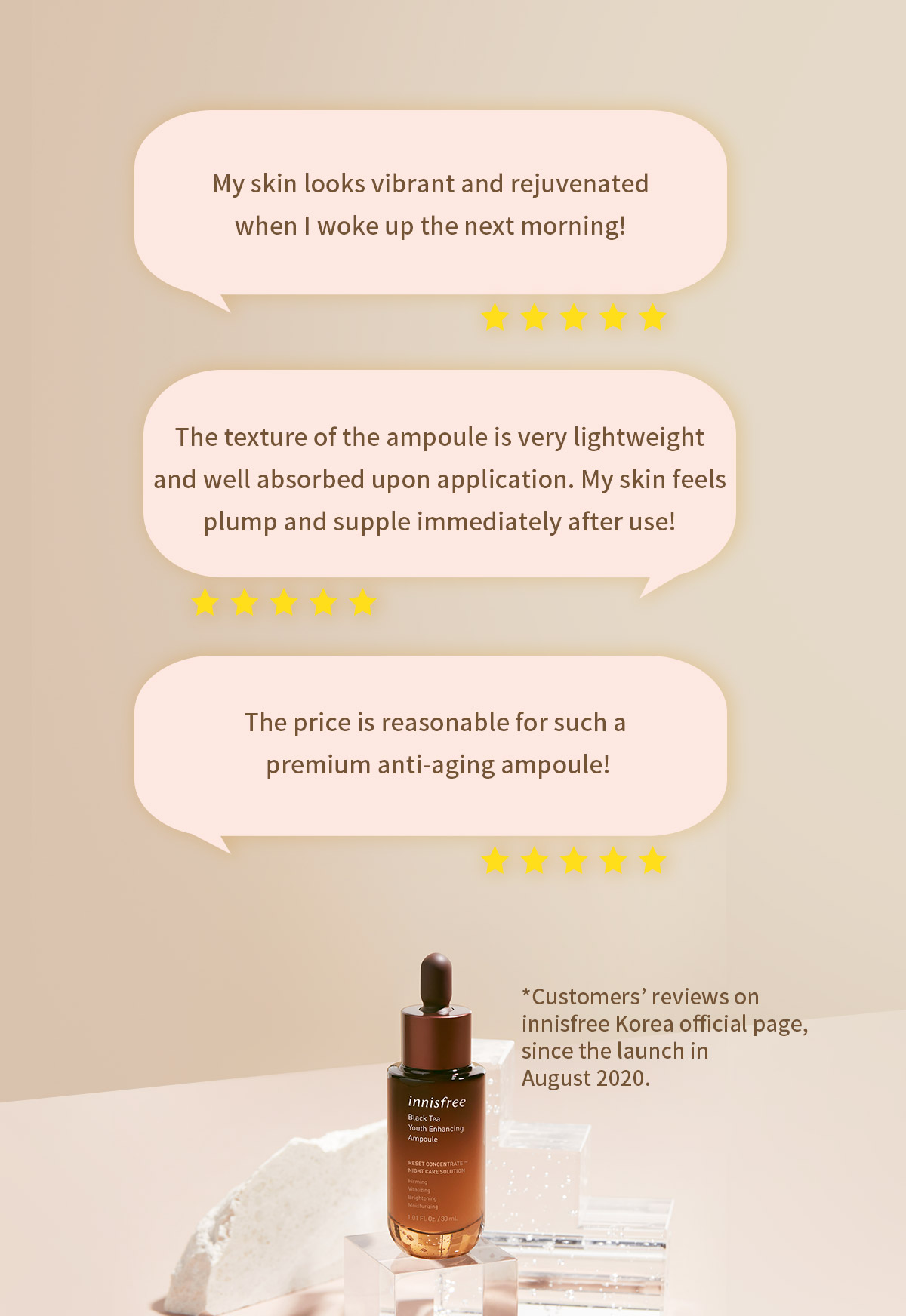 NEW
Black Tea Youth Enhancing Ampoule
A high-performance anti-ageing line that
offers a skin reset effect.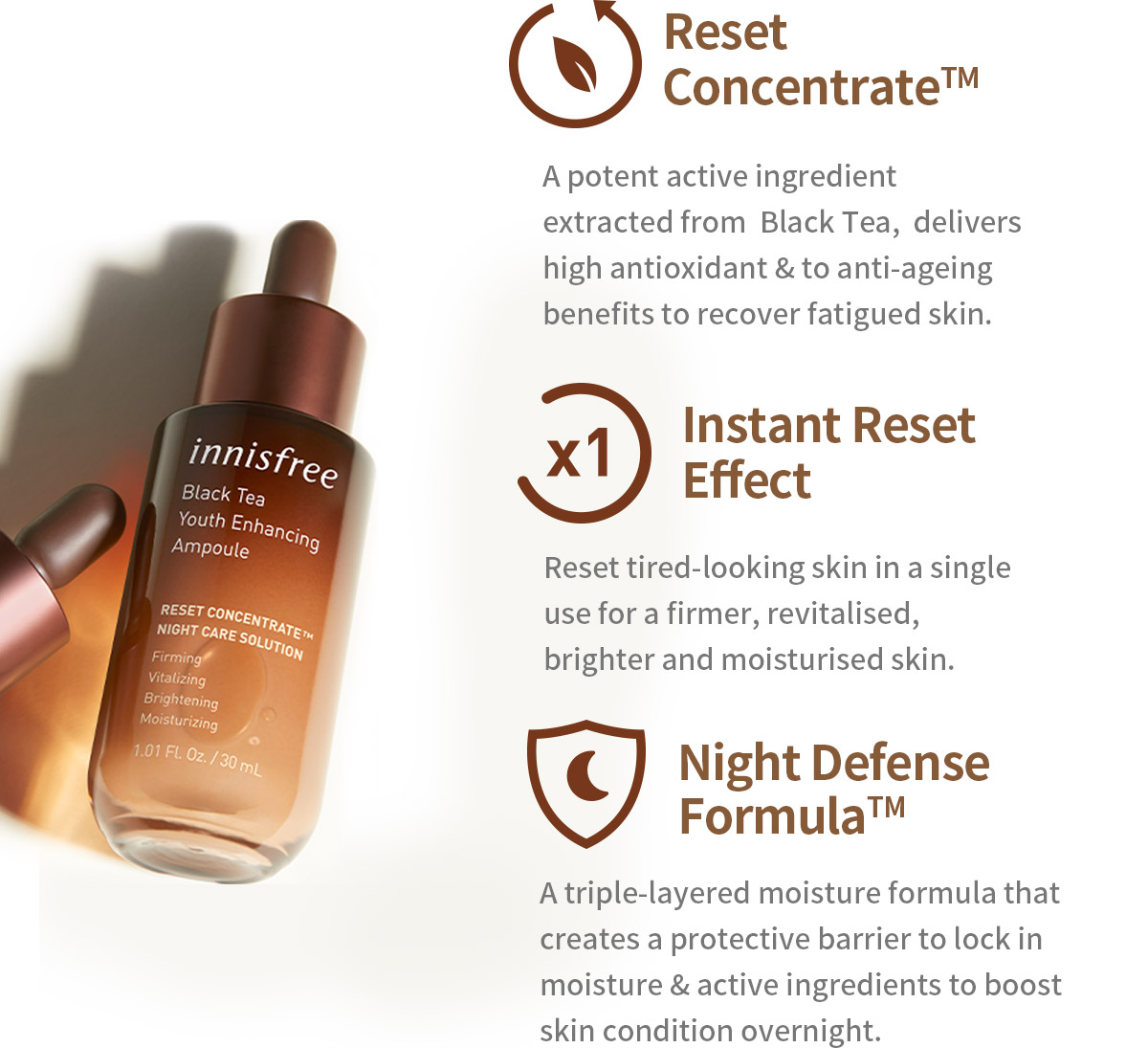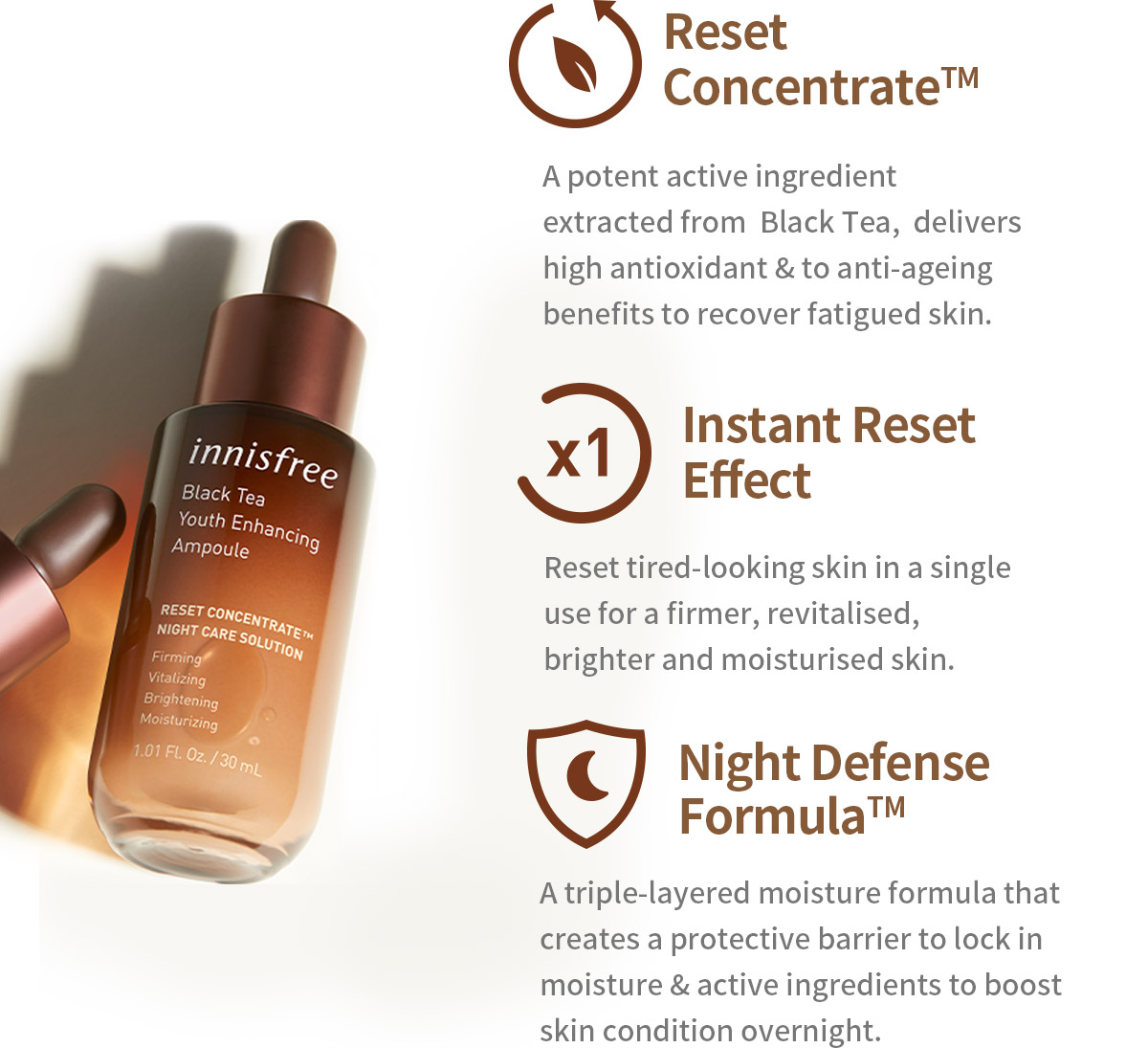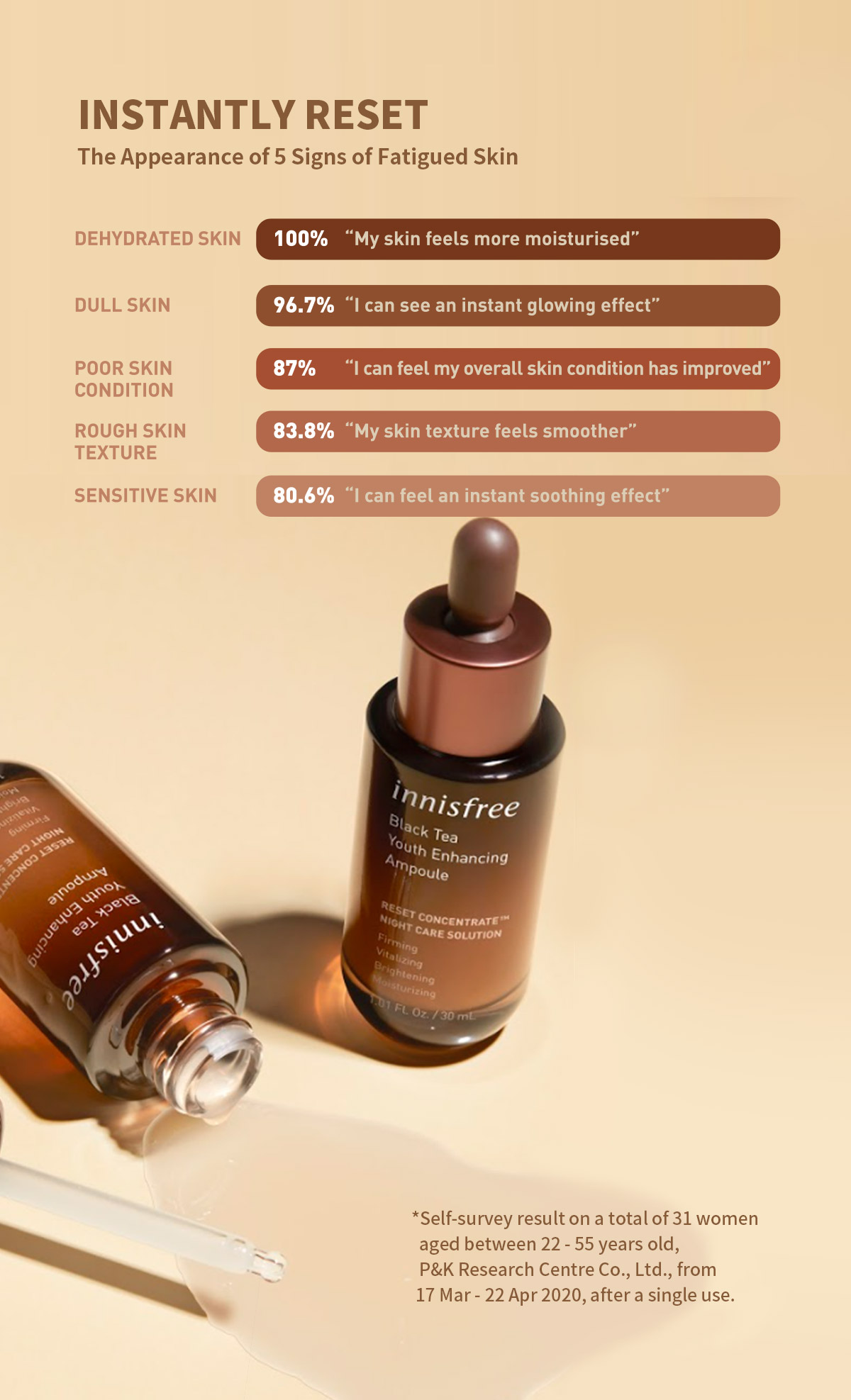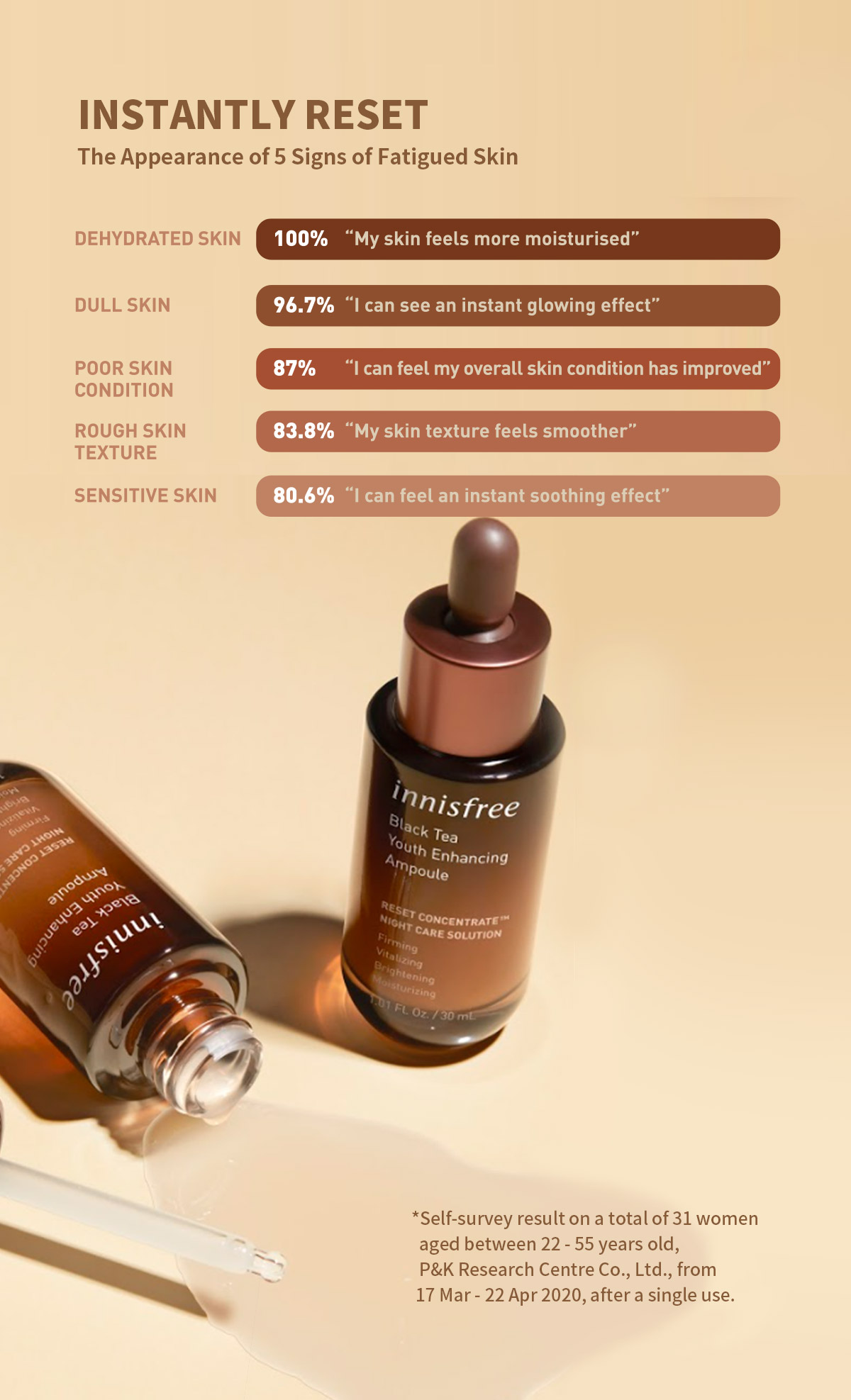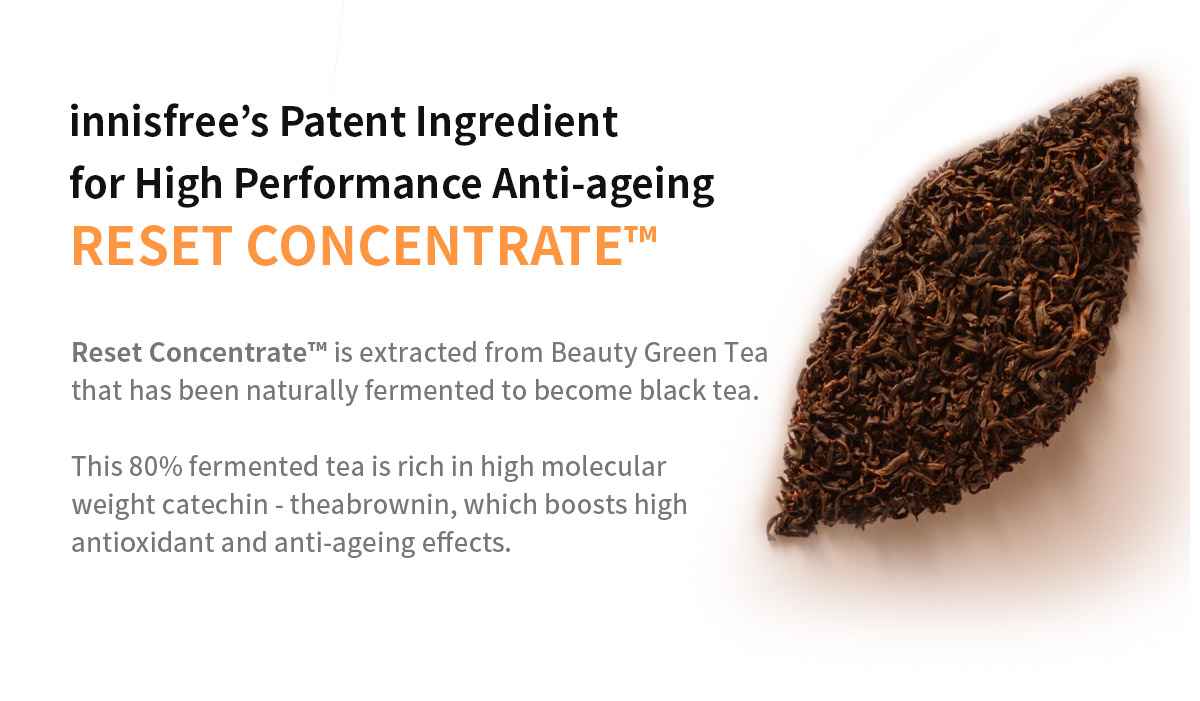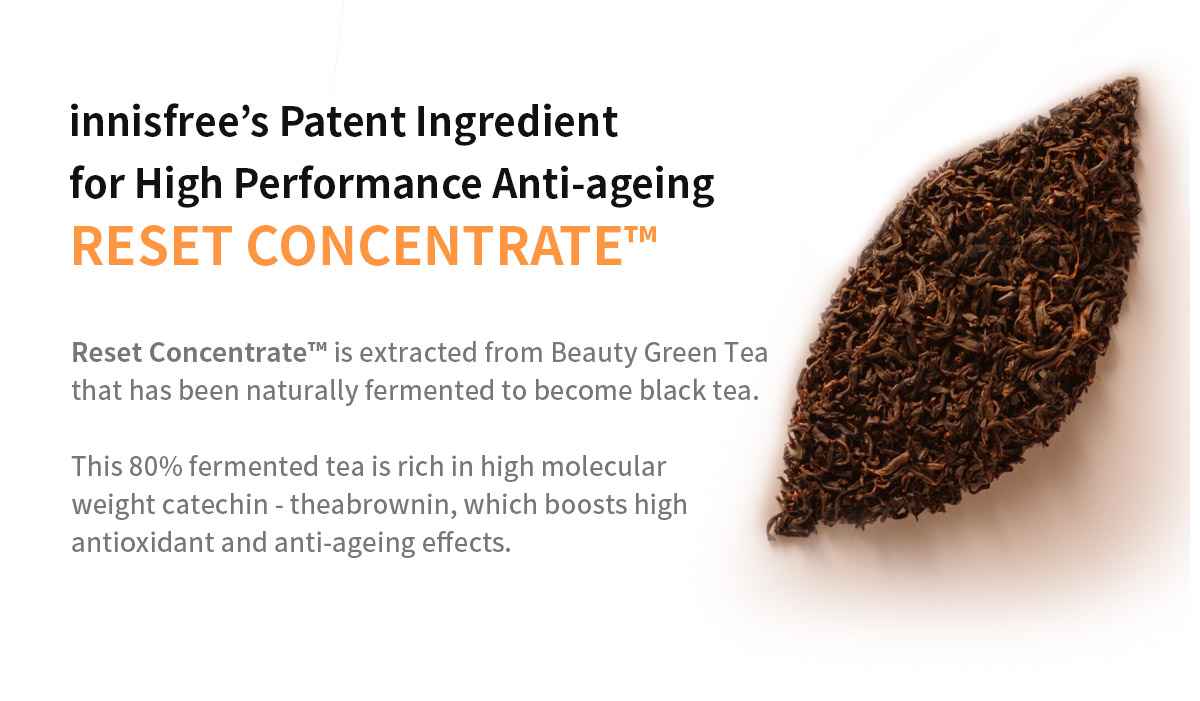 The black tea is extracted
in mineral water at 80℃ for 12 hours
the most optimal extraction for theabrownin
It's safe to use even for sensitive skin.
Skin irritation & Hypoallergenic tested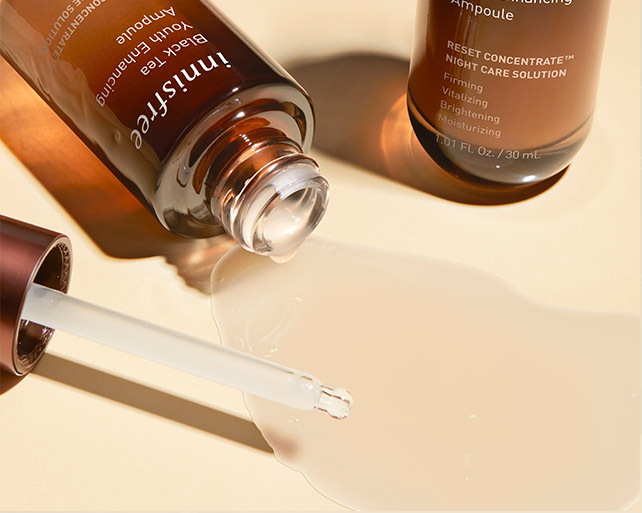 Ampoules usually have a higher concentration of
active ingredients compared to serums and essences.
The formula of this ampoule has been developed
to provide a more intensive effect for fatigued skin
while keeping a light texture that is easy to absorb.
Triple-layered Moisture Formula
For Night Care
Night Defense Formula™, a triple-layered moisture formula that
encourages skin to absorb its active ingredients overnight.
It also protects the skin, creating a barrier that locks in moisture
and boosts your skin condition while you rest,
as our skin is most vulnerable at night.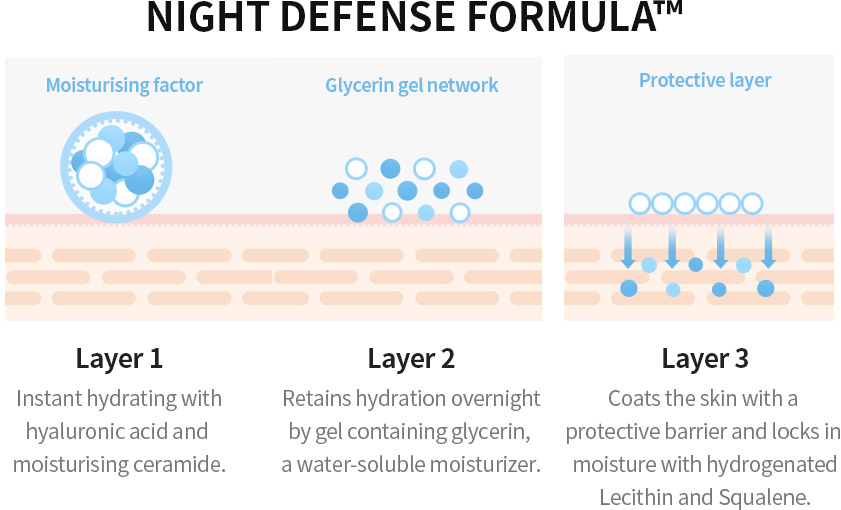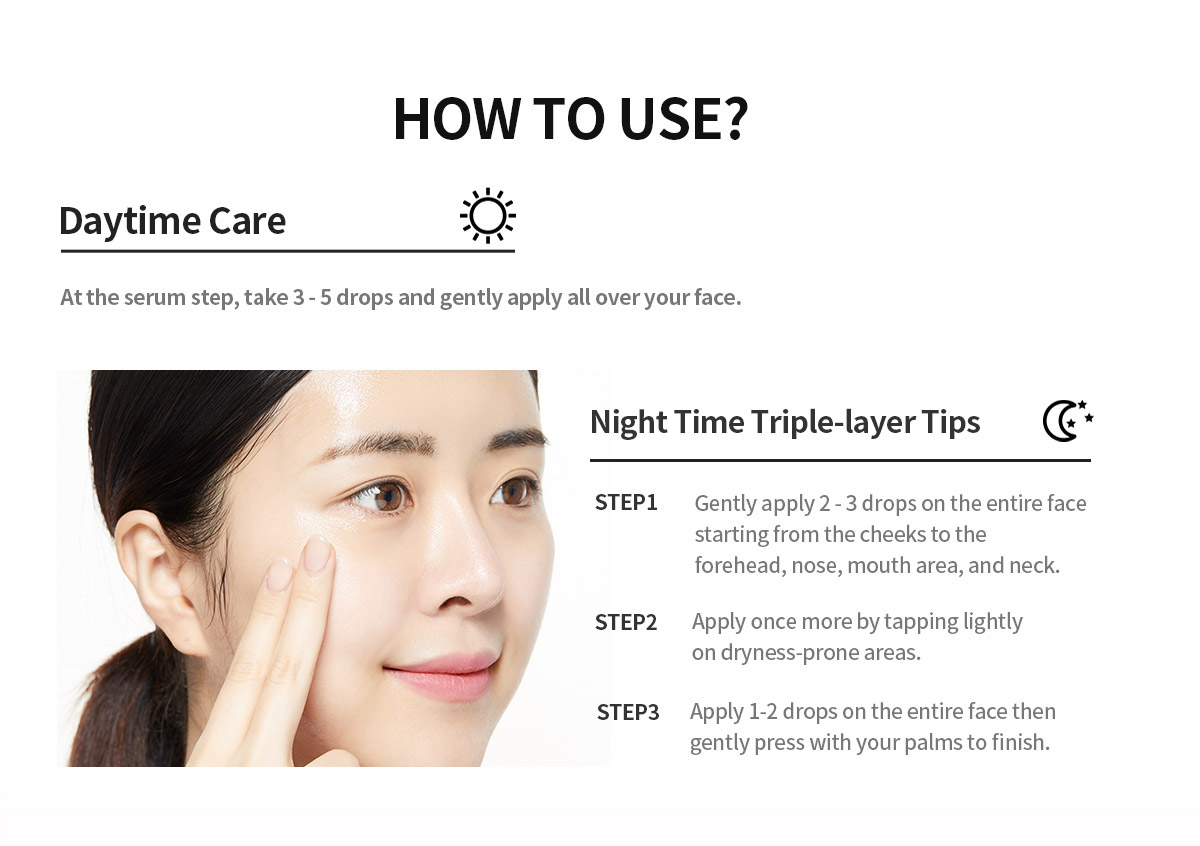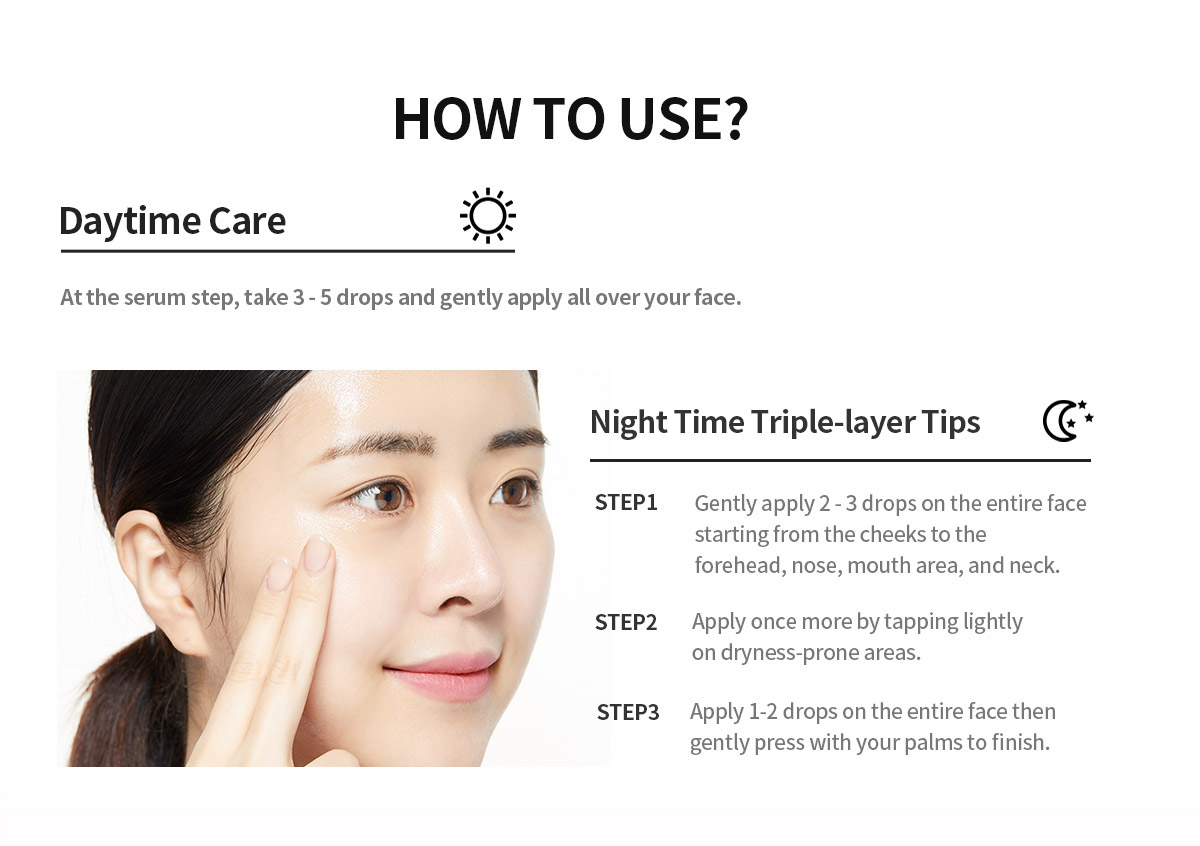 innisfree Clean Beauty
innisfree is committed to offer clean beauty by creating high quality
products using ingredients which is consciously extracted from Jeju.
Understand more about innisfree's green efforts from the product packaging.

1684 Reviews / 4.0
99%
Recommend to a friend
">
Greatest 👍

Greatest 👍

I have an oily skin but dryness because of ageing. After I finished a bottle I feel a lot of improvement and I think its suit all skin type. Best quick fixed and rescue over night.

I have an oily skin but dryness because of ageing. After I finished a bottle I feel a lot of improvement and I think its ...

Was this helpful?

Porn**** R NOV 18, 2021

Skin Type : Oily

Age : 35~44

Moisturising

Moisturising

Not suitable for oily skin as it leaves some residue on the skin. Good for dry skin as it's highly moisturising.

Not suitable for oily skin as it leaves some residue on the skin. Good for dry skin as it's highly moisturising.

Was this helpful?

Dani**** T OCT 31, 2021

Skin Type : Normal / Combination

Love it!

Love it!

My very first bottle of serum. And I could feel the smoothness on my face after a day use. I used to have dull looking face but now not anymore. I love my glowing face! :)

My very first bottle of serum. And I could feel the smoothness on my face after a day use. I used to have dull looking fa...

Was this helpful?

emil***** P OCT 06, 2021

Skin Type : Normal / Combination

Age : 25~34

Radiant-looking skin

Radiant-looking skin

I've just using the 1st bottle and my colleagues all said my skin reflects smoothly in radiance!

I've just using the 1st bottle and my colleagues all said my skin reflects smoothly in radiance!

Was this helpful?

Royc* N AUG 25, 2021

Skin Type : Normal / Combination

Age : 19~24

Highly recommended for people who always sleep late and have fatigue look

Highly recommended for people who always sleep late and have ...

I am using this in night and it works well with me. Usually I do works and houseworks so sleeping sometimes cannot be gain fully 8 hours. This product help as we wake up looking fresh and looks like enough sleep although we sleep like 3-4 hours only. Above all my skin look great and no more dull look due to tiredness. It is amazing result and I recommend people who never use this to add in their skincare routine. You will never worry about dull face or tired look again :) This is really great product. I LOVE IT

I am using this in night and it works well with me. Usually I do works and houseworks so sleeping sometimes cannot be ga...

Was this helpful?

Zahi*** Z JUL 03, 2021

Skin Type : Normal / Combination

Age : 19~24

ITS REALLY REFRESHING

ITS REALLY REFRESHING

Got a sample of this months ago and decided to try it on now since I ran out of my Green Tea Seed Cream. I paired this up with the Black Tea Youth Enhancing Cream and it instantly gives me the refreshing feels. My skin that was dry, dull and look tired with heavy eye bag turns into a glowy/dewy fresh looking skin. Kinda excited to see how it will look like to be in my skin prep before makeup tomorrow morning!

Got a sample of this months ago and decided to try it on now since I ran out of my Green Tea Seed Cream. I paired this up...

Was this helpful?

Ai* N JUN 14, 2021

Skin Type : Oily

Age : 19~24

Great product

Great product

If u ever happen to have a very rough day and heavy make up for any occasion. This the perfect cure at night and feel the different next morning. I am now happy with my morning skin condition. No drying after sleeping using air cond, smooth and glowing I must say.

If u ever happen to have a very rough day and heavy make up for any occasion. This the perfect cure at night and feel the...

Was this helpful?

Iek* R JUN 12, 2021

Skin Type : Normal / Combination

Age : 25~34

love

love

i reallly love it . i'm apply it at night before sleep then when i'm wake up my face really soft and fluffy

i reallly love it . i'm apply it at night before sleep then when i'm wake up my face really soft and fluffy

Was this helpful?

fera* E JUN 05, 2021

Skin Type : Normal / Combination

Age : 19~24

Just love it!!!!

Just love it!!!!

冬天用完佢第二朝皮膚又白又滑!超愛!

冬天用完佢第二朝皮膚又白又滑!超愛!

Was this helpful?

jazl** L MAY 29, 2021

Skin Type : Normal / Combination

Age : 19~24

Great for eczema/super dry skin

Great for eczema/super dry skin

I have eczema, dry dull skin and have tried so many different moisturisers and masks to keep my skin moisturised especially during cold weather. This is definitely my go to, it retains moisture for long periods of time and definitely reduced my wrinkles on my forehead and my skin stays well hydrated and smoother with more radiance. I use this on a daily basis before bed and use a moisturiser to seal in the moisture afterwards. Will definitely repurchase.

I have eczema, dry dull skin and have tried so many different moisturisers and masks to keep my skin moisturised especial...

Was this helpful?

Juli* T MAY 01, 2021

Skin Type : Dry

Age : 35~44
#INNISFREE #INNISTAR
INNIST

R
SEE FULL INGREDIENTS

WATER / AQUA / EAU, BUTYLENE GLYCOL, GLYCERIN, DIPROPYLENE GLYCOL, NIACINAMIDE, 1,2-HEXANEDIOL, SQUALANE, GLYCERYL POLYMETHACRYLATE, CETEARYL ALCOHOL, AMMONIUM ACRYLOYLDIMETHYLTAURATE/VP COPOLYMER, GLYCERYL STEARATE, XANTHAN GUM, ALLANTOIN, HYDROGENATED LECITHIN, ETHYLHEXYLGLYCERIN, STEARIC ACID, POLYGLYCERYL-3 METHYLGLUCOSE DISTEARATE, ADENOSINE, PALMITIC ACID, FRAGRANCE / PARFUM, DISODIUM EDTA, SODIUM HYALURONATE, LIMONENE, CAMELLIA SINENSIS LEAF EXTRACT (BLACK TEA), DEXTRIN, THEOBROMA CACAO (COCOA) EXTRACT, LINALOOL, CITRONELLOL, MYRISTIC ACID, PENTYLENE GLYCOL, LAURIC ACID, TOCOPHEROL, ACRYLATES/STEARYL METHACRYLATE COPOLYMER, TREMELLA FUCIFORMIS SPOROCARP EXTRACT, HYALURONIC ACID, ACHILLEA MILLEFOLIUM EXTRACT, CERAMIDE NP