INGREDIENTS STORY
Volcanic clusters
Jeju was formed by repeated volcanic eruptions.
Ejecta such as volcanic rocks and ash from the eruption of Mt. Hallasan, a volcano in Jeju, are the gifts of nature in Jeju created over approximately 10 million years. innisfree's Volcanic Line products use volcanic ash, which is one form of ejecta.

Jeju volcanic ash is rich in minerals and has excellent absorptiveness of excessive sebum and dead skin cells due to its porous structure. Jeju volcanic rocks are designated as a resource to preserve by a special act, and volcanic ash can only be collected in certain permitted areas. The collected volcanic ash is used for cosmetic ingredients after having impurities removed at over 150 degrees and being ground into a fine powder.
SEE FULL INGREDIENTS
PRODUCT
DETAILS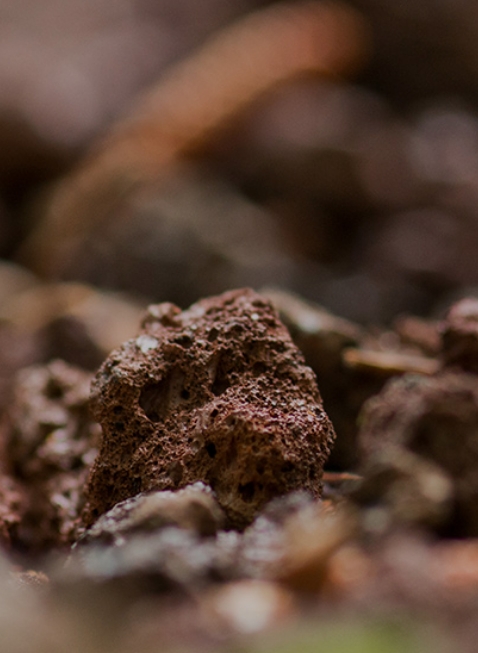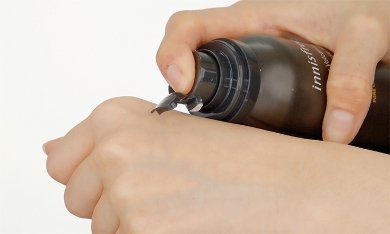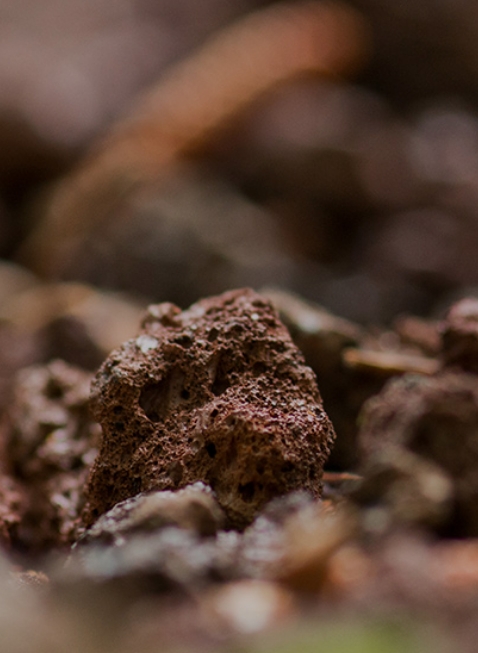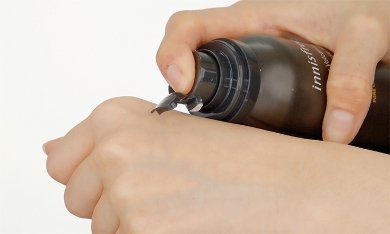 Micro clay mousse mask formulated with Jeju Volcanic Cluster Sphere™

Twice as powerful in absorbing excess oil, impurities, and fine dust from every part of the skin, including small pores and fine wrinkles.
Exfoliates dead skin cells and absorbs excess oil

Contains exfoliating ingredients including walnut shells, AHA, and BHA to wipe off dead skin cells, while Jeju volcanic clusters and sulfur nutrition effectively work to effectively clear excess oil.
6-in-1 pore solution

Airy mousse mask helps minimizse the look of pores, absorb excess oil, gently exfoliate, deeply cleanse, even skin tone, and cool.
Mousse mask in a convenient pump

Convenient pump allows for easy and mess-free application.
SEE FULL INGREDIENTS
Super Volcanic Clay Mousse Mask 2X
Incredible effects after using
Super Volcanic Clay Mousse Mask 2X once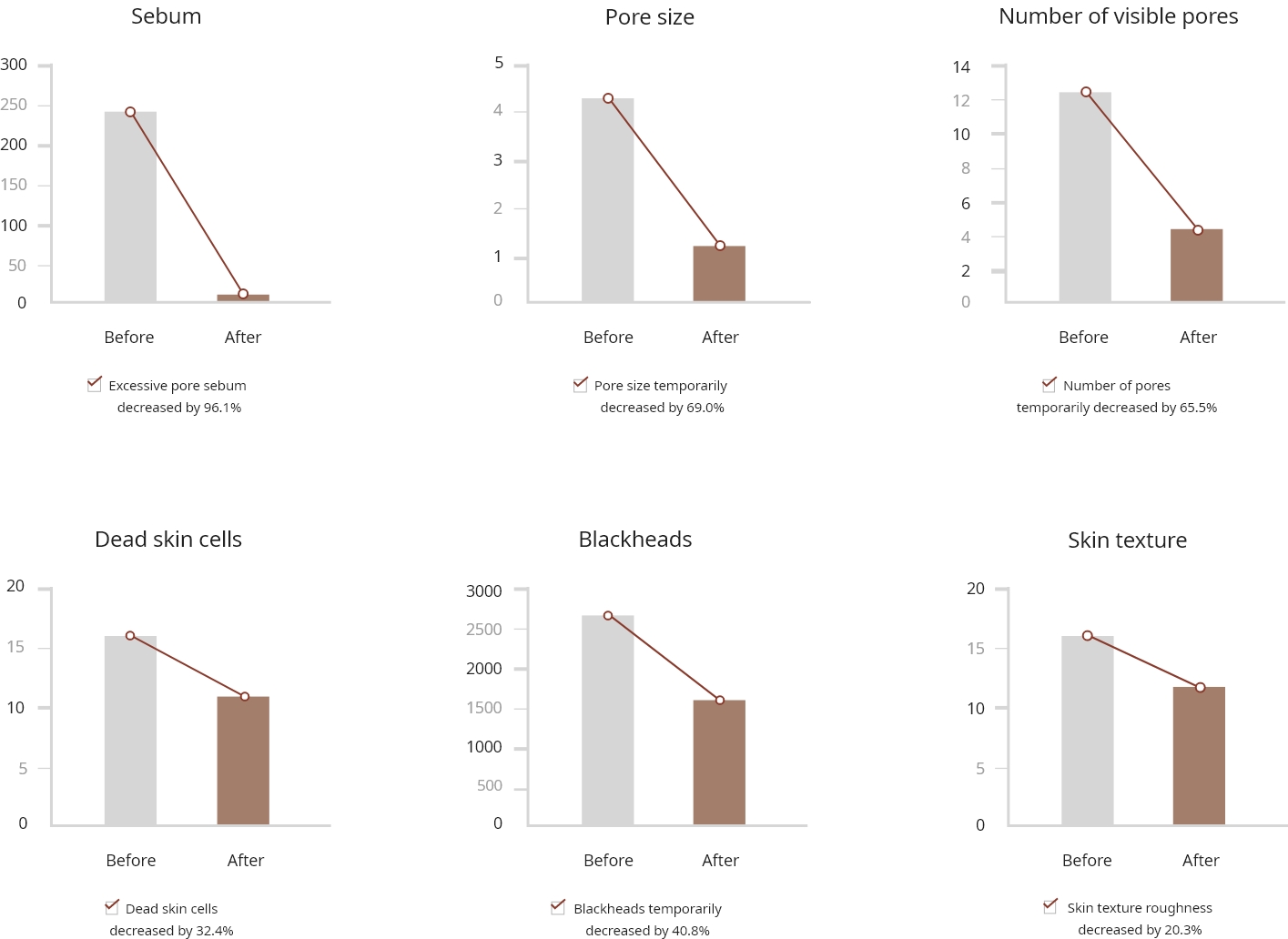 1) Institution : P&K Skin Research Center
2) Period : Dec. 20 – 28, 2018
3) Subjects : 31 women aged in their 20-40s with concerns about pores and
blackheads (individual differences)
Super Volcanic Clay Mousse Mask human testing survey results
It's a mousse-type mask that blends smoothly into even small pores and fine wrinkles.
The skin seems to be less greasy.
The dirty dead skin cells seem to be gone, and the skin texture feels smooth.
HOW TO USE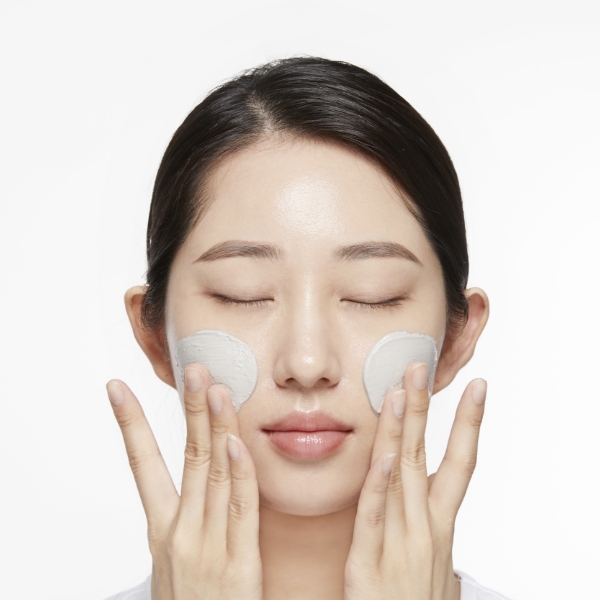 Directions
After cleansing, apply onto dry skin, avoiding eye and lip area. After 10-15 minutes, rinse off with lukewarm water. Can be used up to 1-2 times a week.
for different skin types and concerns
4 types of pore mask
Type
Jar type
Mousse type
Product
Volcanic Pore Clay Mask [Original]

Super Volcanic Pore Clay Mask 2X

Volcanic Clay Mousse Mask [Original]

Super Volcanic Clay Mousse Mask

Skin concern
All customers concerned
about oily sebum
Customers who want to resolve
various pore related concerns
Customers who want moist pore care,
Customers with an uneven skin texture
(pores, fine wrinkles, etc.)
Customers who need to remove even
fine dirt stuck on their skin,
uneven skin (pores, fine wrinkles, etc.)
Texture
Applied smoothly like cream,
with a firm pore tightening effect
Strong cooling sensation and a pore
tightening effect, with the scrubbing
effect of capsule particles
Applied moistly and smoothly,
with less tightness and
heaviness on the skin
Applied smoothly and well-blended,
with a more refreshing sensation
and less heaviness
Recommended for
Normal, combination skin
Combination, oily skin
Dry, normal skin
Combination, oily skin
Type
Jar type
Product
Volcanic Pore Clay Mask [Original]
Super Volcanic Pore Clay Mask 2X
Skin concern
All customers concerned about oily sebum
Customers who want to resolve various pore related concerns
Texture
Applied smoothly like cream, with a firm pore tightening effect
Strong cooling sensation and a pore tightening effect, with the scrubbing effect of capsule particles
Recommended for
Normal, combination skin
Combination, oily skin
Type
Mousse type
Product
Volcanic Clay Mousse Mask [Original]
Super Volcanic Clay Mousse Mask
Skin concern
Customers who want moist pore care, Customers with an uneven skin texture (pores, fine wrinkles, etc.)
Customers who need to remove even fine dirt stuck on their skin, uneven skin (pores, fine wrinkles, etc.)
Texture
Applied moistly and smoothly, with less tightness and heaviness on the skin
Applied smoothly and well-blended, with a more refreshing sensation and less heaviness
Recommended for
Dry, normal skin
Combination, oily skin
PRODUCT LINE
Super Volcanic Mask Series
It contains Volcanic Sphere*, the key ingredient, and handles pore concerns by properly absorbing and removing excessive sebum and even fine dirt from inside pores.

It is especially recommended for oily skin. Use partially on the oily T-zone if you have combination skin.

Skin type : Oily skin, combination skin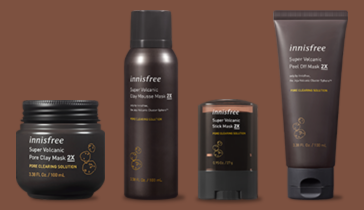 Volcanic Mask Series
It contains Volcanic Ejecta*, the key ingredient, and can be used on various skin types from dry to oily skin with gentler absorptiveness compared to Super Volcanic.

Skin type : All skin types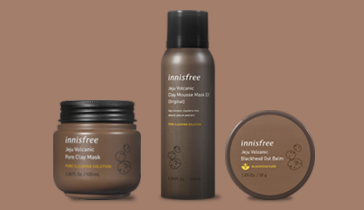 Daily Care Series
Daily sebum and pore care with Volcanic Ejecta*, the key ingredient.

Excessive sebum and dirt are all about everyday life. Volcanic Cleansing Foam and Toner will resolve your skin concerns about pores and greasiness.

Skin type : Oily skin, combination skin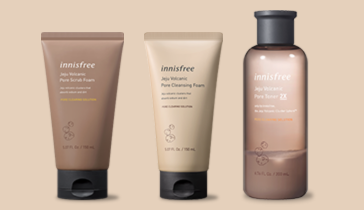 Awards
*Based on industry recognized awards

15Gram 2019 15's PICK Beauty Awards
Mask in the Skincare category No.1

42 Reviews / 4.0
92%
Recommend to a friend
">
Super clay mask

Super clay mask

Recomended for oily and acne prone skin ❤

Recomended for oily and acne prone skin ❤

Was this helpful?

Nev* A AUG 19, 2021

Skin Type : Acne-Prone

Age : 25~34

amazing result

amazing result

amazed at the immediate result after using the product… skin is clear after washing off n tightens pore…
easier to apply compared to the jar versions

amazed at the immediate result after using the product… skin is clear after washing off n tightens pore…
easier to...

Was this helpful?

Sere** C AUG 14, 2021

Skin Type : Oily

Age : 45~54

Good

Good

Good

Good

Was this helpful?

shin***** Y JUN 03, 2021

Skin Type : Normal / Combination

Age : 19~24

I like it . And it suits with my skin type and make my acene less than before after usage...

I like it . And it suits with my skin type and make my acene ...

I love it .. might use again

I love it .. might use again

Was this helpful?

Pyae**** T MAY 02, 2021

Skin Type : Acne-Prone

Age : 13~18

Strongly recommended product

Strongly recommended product

Easy for use, after using feel firming and smoothing

Easy for use, after using feel firming and smoothing

Was this helpful?

Foo* S MAR 27, 2021

Skin Type : Normal / Combination

Age : 45~54

Refreshing and smooth

Refreshing and smooth

Really impressed with this product. It really gives me a softer and smoother skin after using. My pores seems to be smaller.

Really impressed with this product. It really gives me a softer and smoother skin after using. My pores seems to be small...

Was this helpful?

Anna***** D DEC 24, 2020

Skin Type : Normal / Combination

Age : 25~34

Worth to buy

Worth to buy

Skin feel smooth after usage. Falling in love with this product!! ☺️

Skin feel smooth after usage. Falling in love with this product!! ☺️

Was this helpful?

Me* M DEC 17, 2020

Skin Type : Normal / Combination

Age : 35~44

Worth to buy, brighten my skin.

Worth to buy, brighten my skin.

The product is easily to absorb into face, make my skin brighter and minimize my skin pore.

The product is easily to absorb into face, make my skin brighter and minimize my skin pore.

Was this helpful?

Joyc* C NOV 05, 2020

Skin Type : Normal / Combination

Pore magnet

Pore magnet

Very good! Absorb all the nasty things

Very good! Absorb all the nasty things

Was this helpful?

Leng***** L AUG 20, 2020

Skin Type : Normal / Combination

Age : 19~24

Love this volcanic clay ❤️❤️❤️

Love this volcanic clay ❤️❤️❤️

Love this 'super volcanic clay mask ', my skin feel, fresh, smooth. Can remove All dirt & oil.

Love this 'super volcanic clay mask ', my skin feel, fresh, smooth. Can remove All dirt & oil.

Was this helpful?

Adyl** A AUG 15, 2020

Skin Type : Normal / Combination

Age : 35~44
#INNISFREE #INNISTAR
INNIST

R
SEE FULL INGREDIENTS

WATER / AQUA / EAU, SILICA, TITANIUM DIOXIDE (CI 77891), KAOLIN, PROPANEDIOL, DIMETHICONE, ALCOHOL, VOLCANIC ASH, GLYCERIN, CAPRYLIC/CAPRIC TRIGLYCERIDE, POLYVINYL ALCOHOL, STEARIC ACID, BENTONITE, PALMITIC ACID, CETEARYL ALCOHOL, 1,2-HEXANEDIOL, ARGININE, HYDROXYPROPYL STARCH PHOSPHATE, SORBITAN STEARATE, JUGLANS REGIA (WALNUT) SHELL POWDER, IRON OXIDES (CI 77499), LACTIC ACID, SALICYLIC ACID, POLYSORBATE 20, LACTIC ACID/GLYCOLIC ACID COPOLYMER, XANTHAN GUM, IRON OXIDES (CI 77492), DISODIUM EDTA, ETHYLHEXYLGLYCERIN, IRON OXIDES (CI 77491), COLLOIDAL SULFUR, MYRISTIC ACID, ARACHIDIC ACID, ALUMINUM HYDROXIDE, TRIETHOXYCAPRYLYLSILANE, TOCOPHEROL