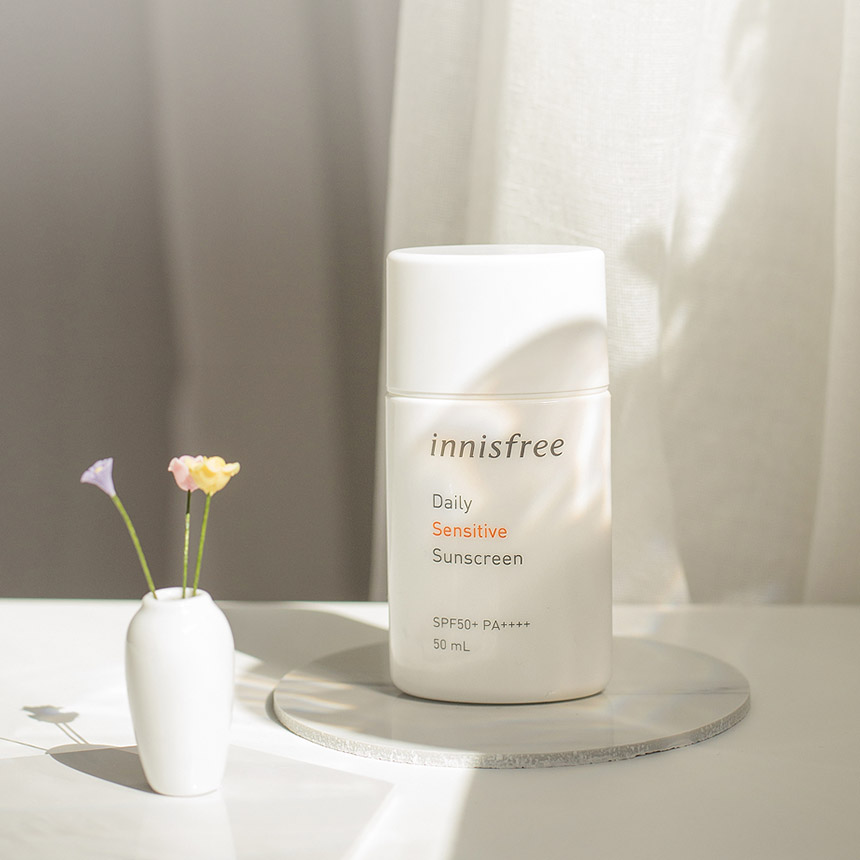 2020/06
ISSUE
Sunscreen is a must-have for all seasons not to mention summer with all the strong UV rays. Also, we should never forget that UV rays exist indoors as well while we stay home due to COVID-19. UV rays that come in through the window can also similarly affect your skin. To block intense UV rays, we present you with a correct way of using sunscreen and product types that match your skin.
#Correct way to use a sunscreen

1) Apply 15-30 minutes before going outside.
2) Reapply every 2-3 hours using a cushion/compact
3) Use it every day, even on rainy or cloudy days
4) Put on a sufficient amount, about 2/3 of a finger, onto the face
5) Apply multiple thin layers and pat to blend.

Sun care products released by innisfree come with powerful UV protection as
default and are also combined with various other skincare and makeup
benefits, such as hydration, sebum control and tone-up. If you are looking for
the perfect sunscreen for yourself among countless functional sunscreens,
take a look at these products.
For those with dry skin seeking hydration through
a moist product to avoid dryness-induced caking
Aqua Water Drop Sunscreen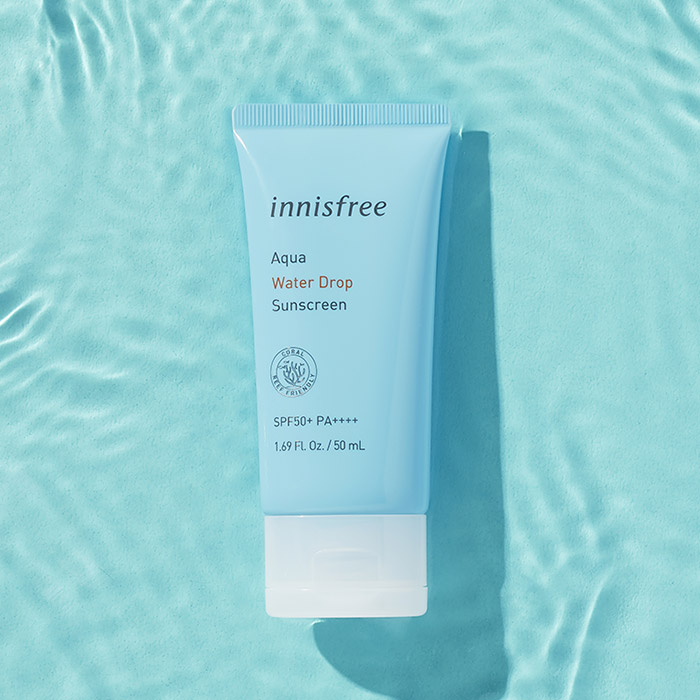 Aqua water drop sunscreen has a thin and moist water-based formula. This product is highly suitable for dry skin thanks to its unique moistness and staying power that help to keep skin hydrated without feeling any sense of tightening inside. It is formulated with mild ingredients and free of harmful substances, which makes it a great skin trouble prevention too. However, please note that it may grow oily after time and may feel too greasy for those with oily skin.
For those with oily skin that easily becomes
shiny due to high sebum production
No-sebum Tone-up Sunscreen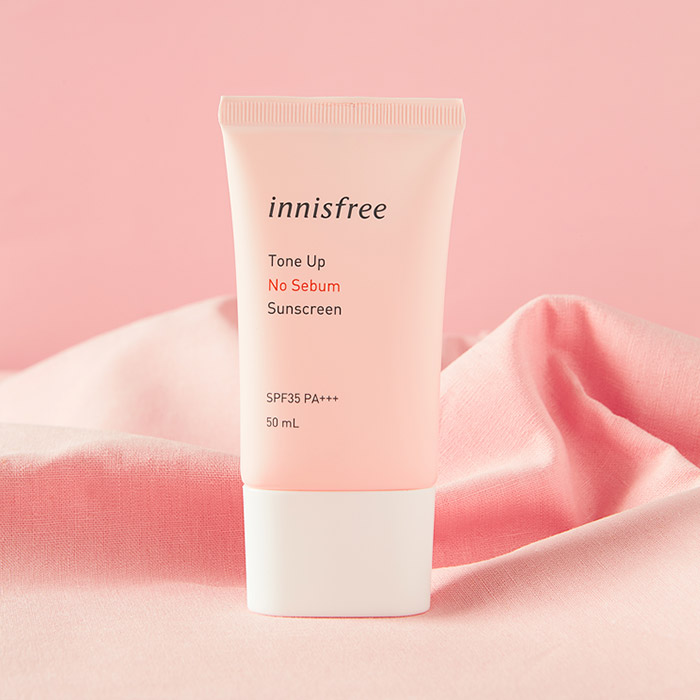 This sunscreen shatters the prejudice produced from the term 'no-sebum' that the formula would be thick and dry. This perfect oily skin solution not only features softness and sebum-control effect achieved by having a low level of oil, but also boasts a soft, moist texture and matte finish. The pink base gives skin a tone-up effect, allowing you to be foundation-free. However, please note that it may cause inner-skin tightening and flakiness for those with dry skin.
For those with combination skin looking for a solution to
control sebum on the T-zone and the dryness of the U-zone
Intensive Long-lasting Sunscreen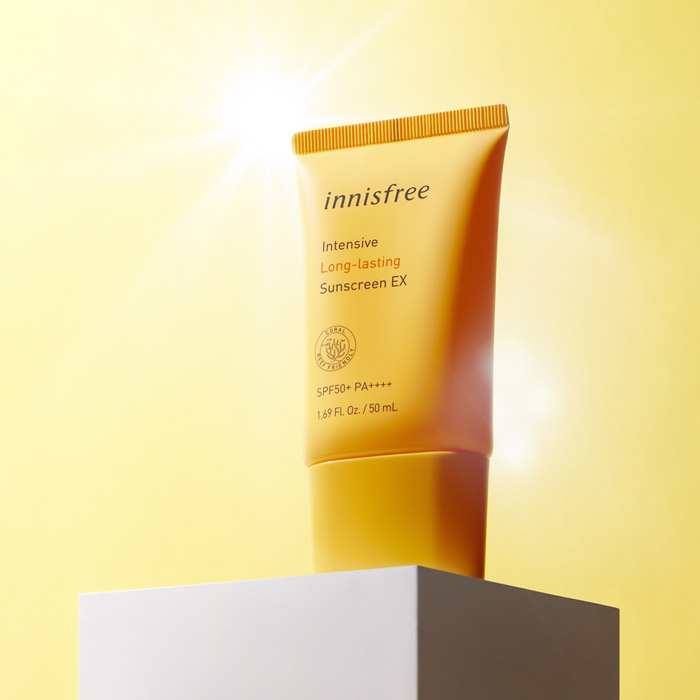 With its high protection level and incredible staying power, this sunscreen lasts on the skin even when you sweat without getting mixed with it or becoming white. This product is suited for those who are highly active or who have too much heat in the body and thus sweat easily. Since an adequate level of oil and moisture coexists in the formula, this product is recommended for those with combination skin who need to control both oiliness and dryness. However, double cleansing is required to remove this high SPF and long-lasting product.
For those with sensitive skin who want a product with mild ingredients,
safe from causing skin troubles
Intensive Triple Care Sunscreen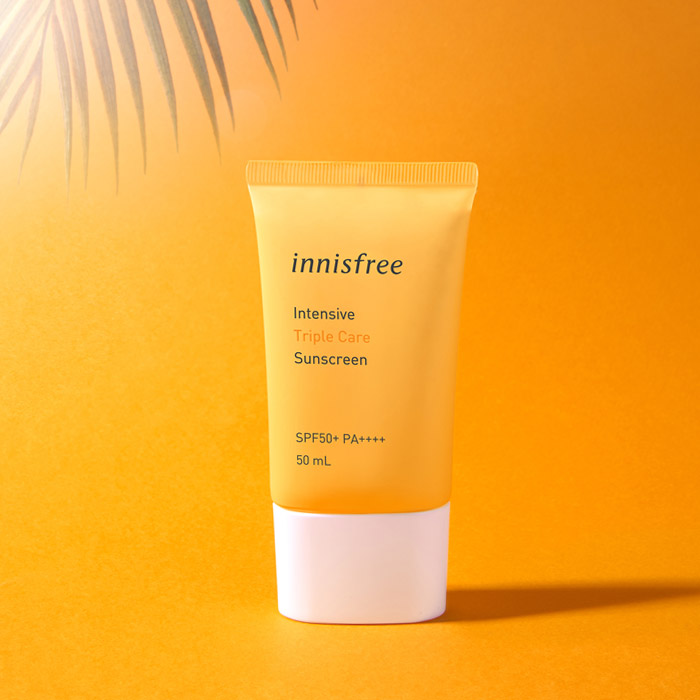 This sunscreen has a natural tone-up effect that is not too excessive and makes a great makeup base alternative with its soft texture and matte finish. This solution features a powerful waterproof function and mild ingredients and is recommended for those who frequently do outdoor activities as well as those worried about having skin troubles. However, the product may feel rather dry and thick for those with dry skin. Therefore, we advise those users to ensure that they have sufficient hydrating skincare before use.
For those with normal skin, looking for an easy sunscreen that sticks
to the basics and can be used anywhere on the body
Daily Mild Sunscreen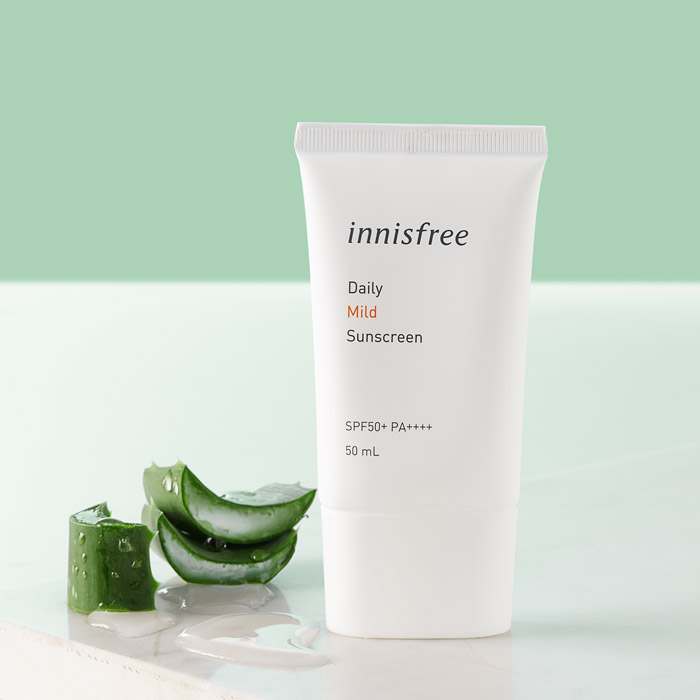 This water-based sunscreen features quick skin absorption and a lightweight finish. Thanks to the aloe vera leaf extract contained in the product, the hydration lasts long enough and makes an excellent choice for those with sensitive or fragile skin. The product is recommended for those who are reluctant to use tone-up solutions as it is free of white cast and gives a natural look to the skin. However, this may not be suitable for those who are sensitive to fragrance because it has a long-lasting strong scent of aloe.