EXFOLIATING PEEL, EXCESS OIL ABSORPTION PORE CARING PEELING

You're 5 minutes away from a super clean, soft skin
Exfoliation meets clay mask for a smoother, softer skin #Peeling

The new exfoliating clay mask combines Volcanic Cluster Sphere+™️, AHA and PHA to melt and
absorb excess oil, dead skin cells, and blackheads, leaving you with a softer, smoother complexion.

Unclog pores and smooth out skin's texture #ClearSkin

The double effect of melting and absorbing excess oil, dead skin cells and blackheads results
in smooth and clean skin, helping boost the benefits of your skincare routine.

A gentle formula that soothes and delivers calming moisture #MildSoothingEffect

Infused with madecassoside and carbonated spring water from Jeju Island to offer moisturising and
soothing benefits. Suitable for all skin types, including sensitive skin.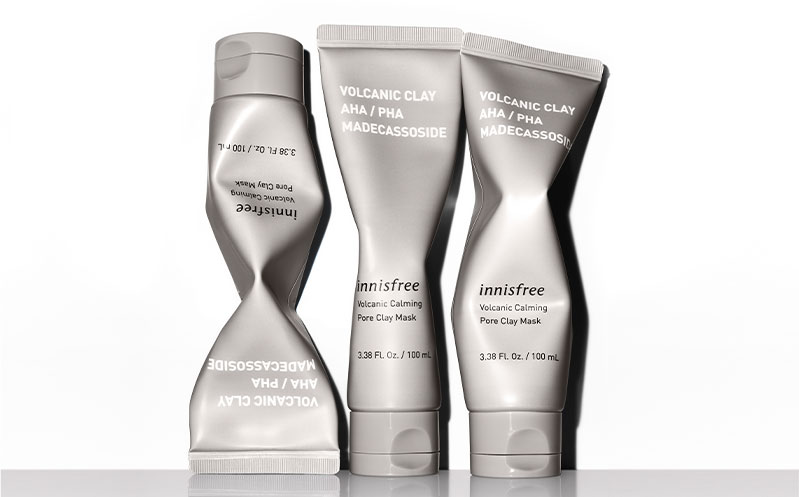 #ClearSkin in
5 minutes
The new Volcanic Calming Clay Mask is
perfect for all skin types, and it can be used daily.
All it takes is 5 minutes.

After cleansing, apply the mask onto dry face.
Leave it on for 5 minutes,
then massage and rinse with lukewarm water.

It has a creamy, moisturising gel-texture
with pore caring, oil absorbing,
peeling and soothing benefits.

This hydrating cream helps to visibly solve pore problems caused
by hot weather and excessive oil with a non-sticky, fresh finish.
It's formulated with Volcanic Cluster Sphere+™ to keep the skin fresh, and mattified,
while AHA, PHA and BHA work together to smooth out the skin's texture.