May You Bloom and Glow
with #BlossomToneUp Cream

Story of Jeju Cherry Blossom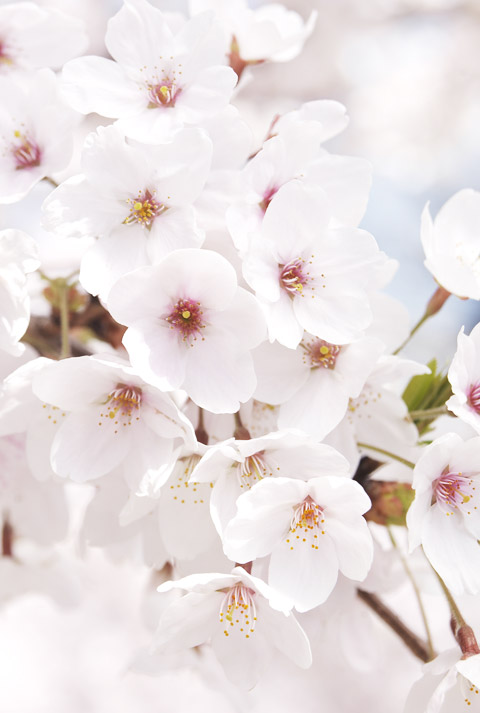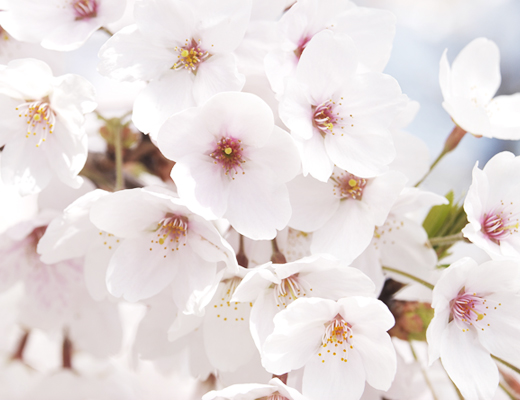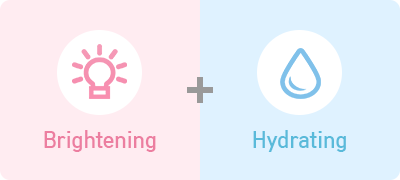 Jeju Cherry Blossom signals the beginning
of spring on Jeju island with its beautiful, rich,
white petals forming a sea of magnificent blooms.
But its beauty encompasses more than its
aesthetics and captivating scent. The petals of the Jeju Cherry Blossom bloom clear
and bright as they receive more moisture,
leading us to discover that we could also deliver
this exquisite benefit to illuminate the skin. After years of research, we have created
our new brightening and hydrating
Jeju Cherry Blossom line to bring you that
coveted fresh glow for healthy-looking skin.

Why #BlossomToneUp Cream?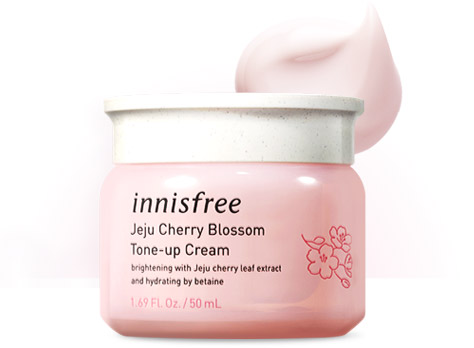 S$31 / 50ml
Felt that their complexion is radiant
and bright after use1
Noticed it evens out their skin tone1
Felt that it helps their skin glow
naturally after makeup1
Experienced smooth and soft skin
after use1
1Based on Self-evaluated Home Usage Test
– 32 Singaporean women aged 15 - 24 in Jul 2019
Brightening effect of Jeju Cherry Blossom Leaf

Contains Jeju Cherry Blossom leaf extract which brightens skin for a clear and vibrant complexion.

Hydrating power of naturally-derived betaine

'Natural betaine', the naturally-derived moisturising ingredient extracted from beet,
creates a barrier to prevent dehydration and boost skin moisture.

Glowing & translucent skin even without makeup on

This lightweight tone-up cream naturally brightens your face without whitening or looking cakey.

Jeju Cherry Blossom Line-Up

Jeju Cherry Blossom Duo to Boost Your Glow
Use the Jeju Cherry Blossom Tone-up Cream together with the Jelly Cream
for a more dewy and bright finish!


Jeju Cherry Blossom Specials
Jeju Cherry Blossom Tone-up Cream
Set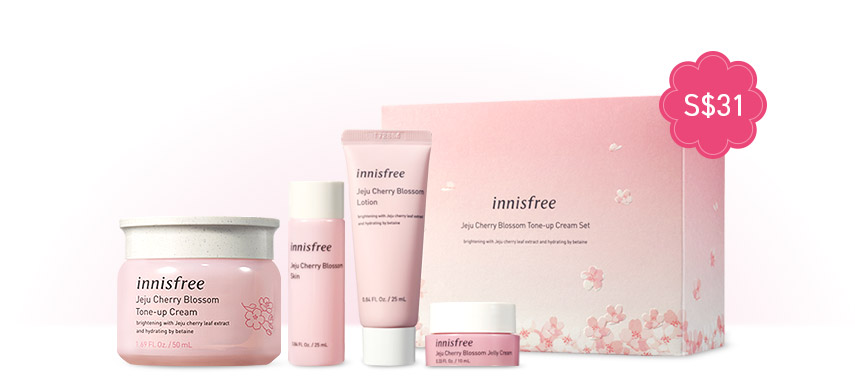 Jeju Cherry Blossom Tone-up Cream (50ml)
+ Jeju Cherry Blossom Skin (25ml)
+ Jeju Cherry Blossom Lotion (25ml)
+ Jeju Cherry Blossom Jelly Cream (10ml)
*While stocks last.
Purchase any Jeju Cherry Blossom Cream
and receive a
FREE Jeju Cherry Blossom Trio Kit

*Valid from 1 to 31 October 2019, while stocks last.